If you use Google Authenticator for multi-factor authentication the authenticator settings are not transferred across devices for security purposes. You will need to set up the Authenticator on the new device manually.
Transferring apps, photos, contacts, etc from your old phone to a new phone is a pretty seamless process these days. But what you may not be aware of is that if you use Google Authenticator for multi-factor authentication, this app and account do not transfer to your new phone.
You must physically transfer your authenticator account to your new iPhone or Android before you wipe your old phone.
Doing so will ensure you can still access your multi-factor codes and sign in to those accounts on your new phone. Without those codes, you could very well end up locked out of your online accounts.
Instructions on how to move Microsoft Authenticator to a new phone at this link.
Google Authenticator App
Google Authenticator is a multi-factor authentication app that generates login codes and is more secure than text message MFA. The primary reason is that it's easier for a hacker to gain access to your text messages than it is to gain physical access to your phone. With an authentication app, the codes are generated and stored temporarily on your phone and expire within a short timeframe.
With that said, using text message MFA is still better than nothing.
How to transfer Google Authenticator codes to a new phone
Make sure you have the latest version of Authenticator on your old phone by checking for updates in the Play Store on Android or the App Store on iPhone.
1. On your new phone, install the Google Authenticator app.
2. On your old phone, tap the three dots on the top right corner and go to Transfer accounts then select Export accounts.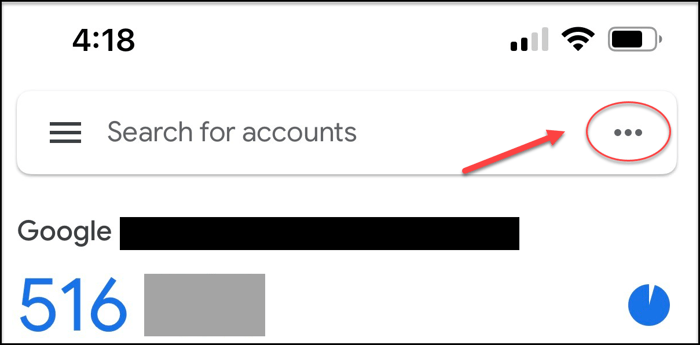 3. Select which accounts you want to transfer to your new phone, and then tap Next.
4. You'll see a QR code on your old phone. You need to scan this code from your new phone to transfer your Authenticator accounts.
5. In the app on your new phone, tap Get Started, then Import Existing Accounts? located at the bottom of the screen.
6. Select Scan QR code.
7. Center the QR code with your new phone. After you scan your QR codes, you will get a confirmation that your Google Authenticator accounts have been transferred.
Now change which phone Google Authenticator codes are sent to
1. On your device or online, go to your Google Account.
2. At the top left, in the navigation panel, select Security.
3. Under "Signing in to Google," tap 2-Step Verification. You might need to sign in.
4. Under "Available second steps," find "Authenticator app" and tap Change Phone.
5. Follow the on-screen steps.
What if you don't have access to Google Authenticator on your old phone?
This part is more challenging. If you've deleted the Google Authenticator app on your old phone without first moving the accounts to the new phone, you have two options.
Retrieve via backup codes you were given when you created your google authenticator account or you'll have to add each of your accounts manually to your new phone.
For most websites and apps, go to your account's security settings, then find "get a QR code", and scan it on your new phone to add the account. Some accounts such as internal line of business tools may require your administrator to reset or enable your multi-factor authentication access.
Transferring Google Authenticator accounts from one phone to another is fairly easy, as long as you know that you need to transfer the account manually before you wipe or dispose of your old phone.
---
Teknologize is a SOC 2 certified, Professional Technology Services company with clients throughout the Pacific Northwest. We have offices located in:
Tri-Cities, Washington 509.396.6640

Yakima, Washington 509.396.6640

Bend, Oregon 541.848.6072
Questions about your IT or Cybersecurity? Give us a call today!