There are multiple layers to the internet. The Dark Web is an unseen layer contained within the Deep Web, another sub-layer of the Internet that is hidden from search engines like Google, BING and Yahoo.
Conventional search engines only search. 04% of the indexed or Surface Web that is available for public view. The other 99.96% of the Web consists of databases, private academic and government networks, and the Dark Web. The Dark Web is estimated to be 550 times larger than the surface Web and rising. Those on the Dark Web operate anonymously and have access to a wealth of stolen data and illegal activity.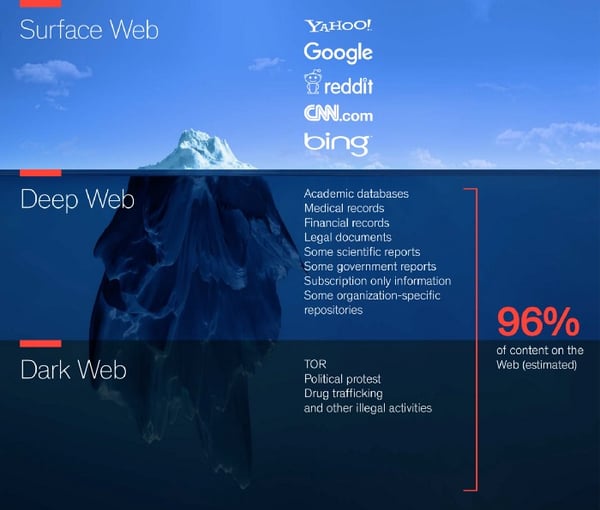 Dark Web iceberg image courtesy of Medium
DOES THE IDENTIFICATION OF MY ORGANIZATION'S EXPOSED CREDENTIALS MEAN WE ARE BEING TARGETED BY HACKERS?
There's no definitive way to know if the data we've discovered on the Dark Web has already been used or is currently being used to exploit your organization. Knowing we are able to identify this data is available for purchase is very concerning. First step is to consult your IT and/or security teams to determine if you have been targeted for a cyber incident or data breach.
HOW ARE THE STOLEN OR EXPOSED CREDENTIALS FOUND ON THE DARK WEB?
Using Dark Web ID, we focus on cyber threats specific to our clients' environments, allowing us to monitor exposure of our client's credentials on the Dark Web and within the criminal hacker underground.
By looking specifically for our clients' top-level email domains from a combination of hacker sites. Many sites require a membership within the hacker community to enter. Currently we monitor over 500 Internet relay chatroom channels, 600,000 private websites, 600 twitter feeds and executive 10,000 refined queries daily.
HOW DOES DARK WEB ID HELP PROTECT MY ORGANIZATION?
Our service leverages a combination of human and artificial intelligence that scours botnets, criminal chat rooms, bogs, Websites and bulletin boards, Peer to Peer networks, forums, private networks, and other black-market sites 24/7, 365 days a year to identify stolen credentials and other personally identifiable information (PII).
Teknologize has clients throughout the Pacific Northwest with offices located in the Tri-Cities, Washington 509.396.6640 and Bend, Oregon 541.848.6072.