66 Percent of Small Businesses Worldwide Have Faced Cyberattacks in The Past Year. For the third year in a row, SMBs are reporting big increases in the frequency of cybersecurity attacks, according to the research published by the Ponemon Institute and Keeper Security.
Welcome to the Hybrid Work Model
After living with COVID-19 since 2020, along with all the adjustments we've made in the way we interact and operate, it's clear we're functioning under the mentality that this is our new reality or "new normal".
There is one thing that hasn't changed. The need for professional IT services. In fact, as remote work, also coined hybrid work, has become more commonplace, IT needs have become more necessary and a bit more complex. 
As you budget and prepare your business plan, now is the time to consider how working with a Managed Service Provider (MSP) can benefit your business.
What is an MSP?
A Managed Service Provider, MSP, delivers ongoing monitoring and management of client applications and IT infrastructure.
This is typically accomplished through remote monitoring services, which allow them to change and update systems, monitor clients' IT infrastructure, and troubleshoot problems. MSPs closely monitor a business's IT solutions, including Line of Business (LOB) applications, desktop and server management software, backup solutions and IT disaster recovery plans, storage management tools, security software, and more.
Small businesses outsource IT to ensure all their business systems and networks remain up and running, thus taking a proactive approach to IT.
Rather than waiting for something to break or shut down, MSPs ensure a customer's IT can avoid most technical issues in the first place.
This is a considerable advantage because IT-related downtime can have a devastating impact on revenue and reputation.
M

SP benefits for small-to-medium sized

businesses (SMB's)
An experienced and knowledgeable Managed Service Provider (MSP) can help elevate your business by allowing you to streamline operations, reduce costs, improve efficiency, maximize profit, minimize waste, and devote talent to core business instead of overhead.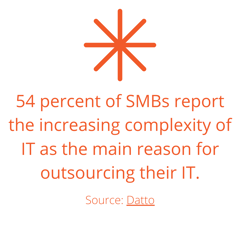 Your IT choices are like your staffing choices. Making the wrong choice is seen as a cost. Making the right choice is viewed as an indispensable investment with endless rewards.
While outsourcing some or all of your IT to an experienced and progressive third party is almost always a win, the perceived cost is often the factor that causes hesitation amongst CEOs, CFOs, and decision-makers.
Here are some considerations to help you make the best investment decision for your organization.
1. Expert support and access to newer technologies
Outsourcing IT with a Managed Service Provider offers skilled help with a Helpdesk team of experts able to troubleshoot and remediate issues that arise. Experience is one of the most common – and critical – gaps between many in-house IT teams and exceptional Managed Services Providers (MSP).
Businesses also benefit from having access to the latest technology and business-grade solutions that maintain uptime and profitability, such as remote monitoring and management (RMM), backup and disaster recovery (BDR), and cloud computing. 
With experience in supporting a wide range of specific industry lines of business tools, MSPs are equipped to help problem solve and guide you toward a resolution.
Let's face it, it's hard to stay on top of the latest trends in technology. When it's time to upgrade or invest in new equipment, a Managed Service Provider can provide knowledgeable guidance, with recommendations for quality solutions to best suit your needs.
2. Security and data protection
Do you work with other external client data or personally identifiable information (PII)? Regulations and compliance are constantly changing. It's difficult to keep up with the latest policy changes.
Recent reports of sophisticated attacks on Healthcare and Governmental Agency IT systems from state-sponsored actors have filled our newsfeeds. A study published by Ponemon Institute found that 66% of SMBs worldwide reported a cyberattack within the previous year, with business email compromise and ransomware attacks leading the charge.
Additionally, there's been a huge shift in the number of employees who have transitioned to remote work amid COVID-19 and employees working from home aren't benefiting from their corporate firewalls and PCs, laptops and mobile devices connected to consumer-grade internet services may be exposed. Businesses are shifting to cloud services with employees accessing cloud-based collaboration tools, and the need to secure them.
Many MSPs do not have modern security offerings needed to face current threats. That is why a growing number of businesses are switching to MSSPs (Managed Security Service Provider)or a more mature and security-focused MSP.
3. Return on Investment (ROI) and cost savings
One of the biggest business values of managed services is greater cost savings. IT budgets consist of many items: hardware costs, software and network infrastructure costs, maintenance, and labor to name a few. One of the top reasons why companies choose managed IT services is because it's much more cost-effective than hiring permanent staff.
An investment in managed services means you're spending a set monthly amount to keep your systems running smoothly, as well as receiving ongoing support and expertise from a team of IT technicians and engineers to provide preventative planning before issues arise.
4. Peace of mind
Peace of mind is a valuable benefit of working with a Managed Service Provider. We call it Worry-free IT. Business owners no longer have to worry about their daily IT operations and environment. They choose to work with an MSP in order to get 24/7/365 coverage from a team of IT experts, allowing them to spend more of their time focusing on growing their business. 
The most innovative, fastest-growing companies succeed by focusing on their core business and not trying to become IT specialists. If your business finds that it is struggling to keep up with the security, experience, or resources it needs to keep its IT viable and competitive, we are here to help.
People are back to work, and kids are back in school. But it's unlikely that companies will get back to what normal used to look like. The 2020 experience has altered how businesses use technology and how their employees expect to work. Now is the time to see how working with a Managed Service Provider (MSP) will benefit your business.
Teknologize is a Managed Service Provider with clients throughout the Pacific Northwest with offices located in the Tri-Cities and Yakima, Washington 509.396.6640 and Bend, Oregon 541.848.6072.