10 Considerations for Hiring In-house IT vs Partnering with an MSP
Does your business's IT management need an upgrade? Are you wondering why your business's productivity is currently being hindered by your current IT solution?
Growing businesses understand that managing company technology requires a specific skill set and expertise. Maybe you have or are considering hiring a dedicated role within your organization. If you do have in-house IT maybe you feel they're underperforming, or you want to find ways to leverage technology from a strategic standpoint but lack the resources to achieve your goals.
Underperforming IT leads to frustration and friction, ultimately slowing down productivity and long-term goals.
Should you outsource your IT to a Managed Service Provider?
IT Options
What are my IT Support Options?
In-house IT: In-house IT refers to having an internal IT person within your organization to manage all of your company's technology needs.


Managed IT: Managed IT services refers to the practice of partnering with an external Managed Service Provider (MSP) who handles all the components of your business's IT. A managed IT service provider is responsible for proactive monitoring, management, and support of an organization's technology, including the management of IT infrastructure, networks, security, and software applications, as well as support for end-users.


Co-managed IT: Co-managed IT is a partnership between a business and an external IT service provider. Both parties work together to manage the organization's IT systems. The company retains overall responsibility for its IT systems but works closely with the IT service provider to ensure they are correctly configured, maintained, and secured.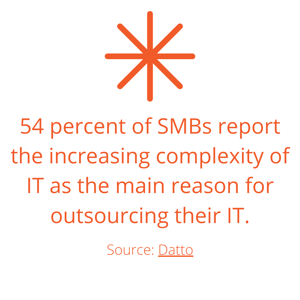 In-house IT vs. Managed IT
Let's discuss some variables when deciding to source your IT in-house or with an MSP.
1. Level of expertise.
In-house IT: The biggest disadvantage is the lack of expertise. Most organizations only have the budget for a single IT person or at best, a small team.
That means you'll have to hire generalists who can troubleshoot routine problems but have limited ability to address complex technical issues when they arise.
Managed IT: Your business will have access to a team of experts that can provide specialized expertise in areas such as network management, cloud services, cybersecurity, backups and business continuity, phones, etc.
Having a team of IT professionals with different skills, resources, and expertise ensures that all aspects of your IT infrastructure are covered.
MSPs also have access to a wide range of resources and expertise that may not be available in-house, including data analytics tools, project management tools, and cybersecurity solutions.
2. Just one person vs a team of experts.
In-house IT: Prone to human error. A single mistake can cause significant problems for your business, such as data loss or a system outage.
Additionally, a single IT guy may not be able to provide the necessary level of support and troubleshooting when problems arise.
Other items to consider, an overwhelmed workload causing delays and inadequate documentation of technology systems and processes.
Managed IT: MSPs employ many people certified in a variety of technical specialties. Your business will have access to this team of experts and specialists that can provide a wide range of services including network management, cybersecurity, cloud computing, data backup and recovery, software support, help desk support, and project management of technology initiatives.
MSPs also have contacts with industry experts and specialists from across the country.
3. Technology is constantly evolving.
In-house IT: It's important to stay current with the latest technology and advancements in order to remain competitive and efficient. They may lack the industry standard certifications and know-how that are becoming increasingly critical as technology systems grow.
A single IT guy may not have the time or resources to stay current on all the latest technology, leaving your business at a disadvantage.
Managed IT: MSPs have a deep understanding of the latest technology and can provide guidance on the best solutions for an organization's specific needs.
They also have the expertise to quickly implement new technology, improving efficiency and providing cost savings.
4. Cybersecurity in today's threat landscape.
In-house IT: The cybersecurity landscape is constantly changing, and an in-house IT person may have difficulty keeping up with the latest threats, vulnerabilities, and best practices for mitigating them. Cybersecurity is a critical concern for any business, so you must have the best resources to apply and monitor the necessary security measures to protect your business.
In-house IT teams may have limited opportunities for collaboration and knowledge-sharing with other IT professionals which can limit their ability to stay informed and up-to-date on cybersecurity best practices.
Managed IT: MSPs deeply understand the latest cybersecurity threats, technologies, and best practices. They use advanced technologies to continuously monitor, assess, and secure their clients' systems. Thus, reducing downtime, improving security and compliance, and increasing the overall efficiency of the business.
Security solutions include advanced threat protection, endpoint protection, active threat hunting, IT vulnerability scans, backup solutions, and more.
5. Regulatory compliance.
In-house IT: Does your business feel confident that your "IT Guy" can be responsible for assessing, monitoring, and managing compliance mandates?
Some regulations, such as data privacy laws and standards, can be complex and difficult to understand and comply with. In-house IT teams may have difficulty navigating these complexities and ensuring the organization is in compliance.
Managed IT: Managed Services can help organizations to meet regulatory compliance requirements, such as HIPAA, GDPR, GLBA, NIST CSF, FDIC and PCI DSS, by providing regular security assessments, backups, and disaster recovery. Look for an MSP that has a SOC 2 attestation. If an IT Provider cannot complete a SOC 2 audit, they likely are not strictly implementing the data governance policies and procedures to protect your business.
MSPs can help organizations implement proactive security measures, reduce costs, and ensure compliance with regulations. Giving your organization peace of mind and reducing the risk of costly penalties and legal issues.

6. Operational Expense.
In-house IT: Hiring people is expensive. Having a full-time in-house IT person or team can be pricey, especially for small and medium-sized businesses. You must provide office space, salary, benefits, and take on a variety of legal liabilities. These costs eventually add up to a considerable amount.
The average IT professional makes $77, 693 a year in the United States.
Managed IT: With Managed Services, businesses can budget for IT expenses more easily, as costs are typically based on a flat monthly fee or a per-device/per-user basis. Outsourcing to an MSP is far more cost-effective compared to having a full-time in-house IT team.
7. Strategic IT Planning.
In-house IT: In-house IT departments often lack strategic IT planning because they are focused on day-to-day operations and maintenance tasks, rather than taking a long-term, holistic approach to technology planning and implementation.
As a result, they may miss opportunities to align their technology investments with the organization's overall business goals and objectives.
Managed IT: MSPs have a deep understanding of the latest technologies and can help organizations identify the best solutions for their specific needs. They can also provide guidance on how to implement these solutions in a way that aligns with the organization's overall business goals.
As your business grows, you have the flexibility to scale up systems painlessly. You'll have access to a "virtual CIO" that will work with you, providing high-level strategy and specialized advice to help you achieve your business goals from a technology standpoint.
They can also help communicate the technology plans to stakeholders to help them understand what are the benefits of the technology solutions and the impact they will have on the organization.
8. Time management.
In-house IT: In-house IT staff will have multiple responsibilities, including non-IT related tasks, which can limit their availability to address IT issues in a timely manner.
Managed IT: There's a significant amount of IT tasks outside of technical support to consider. Your MSP can help with many of the following: Researching hardware and software best suited for your business, asset management, reporting and monitoring, compliance audits, network diagrams, assisting with cybersecurity insurance application questions, and more.
9. Availability.
In-house IT: With in-house IT, you have a single point of failure. If they are sick, go on vacation, or leave for a new job, the company may experience delays or interruptions in their technology-dependent activities until the IT person returns or a replacement is found which can take months on average.
In-house IT support only covers M-F / 9-5, not evenings or weekends. What happens if you experience a cyberattack during the evening? What if your systems go down on the weekend?
Managed IT: Your MSP team includes several experts that are familiar with your organization's infrastructure, and have thorough documentation of your network, the techs are trained about your business and specific industry line of business tools, therefore there are no concerns of being without service if an employee is absent.
An MSP provides ongoing IT maintenance 24 hours a day, seven days a week, in addition to proactive planning and continual monitoring so you can resolve issues like downtime and data loss without having to wait until Monday morning.
10. Management of IT personnel.
In-house IT: Business owners or managers may not have a clear understanding of the specific responsibilities of an IT employee and may not be able to evaluate or put metrics on their performance.
Additionally, many business owners may not be familiar with the certifications and skills that are relevant to the IT field, making it difficult for them to evaluate the qualifications of potential candidates.
Managed IT: Working with an MSP can help organizations reduce the administrative burden associated with employee management, freeing up time and resources that can be focused on growing your business.
Ultimately, the decision between in-house IT and MSP depends on the size and needs of your organization. Larger organizations may benefit from having an in-house IT department, while smaller organizations may find that working with an MSP is more cost-effective and provides access to a wider range of expertise and security services.
---
Teknologize is a SOC 2 accredited, Professional Technology Services company with clients throughout the Pacific Northwest. We have offices located in:
Tri-Cities, Washington 509.396.6640

Yakima, Washington 509.396.6640

Bend, Oregon 541.848.6072
Questions about your IT or Cybersecurity? Give us a call today!